By Augustine Ehikioya
Towards mopping up proliferation of illegal small arms and light weapons in Nigeria, the National Centre for the Control of Small Arms and Light Weapons (NCCSALW) is to partner with Security Watch Africa Initiatives (SWAI) on its Advocacy.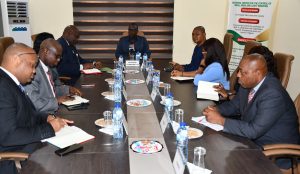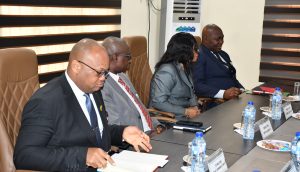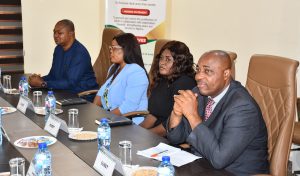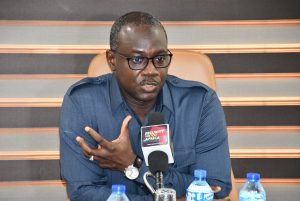 This was disclosed by the NCCSALW National Coordinator, Major General Abba Mohammed Dikko (Rtd.) when the President and CEO of SWAI, Mr. Patrick Agbambu, led his team on courtesy visit to their office in Abuja.
Appreciating the good work of Security Watch Africa in the area of security in Nigeria and Africa as a whole, he said the Centre will work with Security Watch Africa on its Advocacy against illicit arms and weapons.
He said "First let me appreciate you on the good work you have been doing over the years, especially within the realm of security. Ordinarily, one would say that security issues rest within the purview of key actors within the security environment.
"But then, here you are, with your rich background, also commanding a tremendous respect within the same spirit not only that, the dexterity with which you discharge your professionalism in terms of anchoring a weekly prprogramme makes it really very interesting and germane to seek its sustenance and to ensure that you probably expand the scope of your engagement to those areas that are out of the box in terms of our natural thinking.
"For the outreach that you have and your clear mandate, your intent was very clear in your letter, and we will surely be looking forward to working with you in order to send this message far and beyond," he stated.
Tracing the history of the establishment of the Centre in 2021 by the Federal Government to actualize the mandate of ECOWAS, he said its mandate does not only include blocking illicit flow of arms and weapons, but setting up databases for arms seized and gun-runners and prosecuting them.
Stressing that there is no continent or region that is not bedeviled with one security crises or the other, he declared that there is a deep connection between illicit arms and drugs.
To this end, he said that the Centre has been partnering with the National Drug Law Enforcement Agency (NDLEA) to raise awareness of the dangers associated with availability of drugs and how they influence behavior, and how the availability of illicit weapons also emboldened someone to go beyond the natural response to situations
Urging Nigerians to take ownership of security in the country, he noted that Nigeria is the preferred destination of illicit arms and weapons from marketer or gun-runners.
He listed the dangers of getting illicit arms for self defense and other reasons.
"The government as responsive as it is over the years and beyond, has continued to provide the necessary framework to handle security challenges. So taking laws into our hands and going by all means, to ensure that we do this so called self defence mechanism is what has led to the desire by every individual to be in possession of a weapon, one way or one type or the other.
"Now, the danger is that you begin to cultivate a lawless society. And once the society becomes lawless, there is a total collapse of systems and once there is a total collapse of systems, and when I say systems, I mean structures that take responsibility for our day to day life.
"Once those structures collapse, then you don't have a society anymore. And if you don't have a society anymore, then it means that you can just extrapolate and begin to raise the bar, and see eventually whether you're talking about the State or no State," he said.
The National Coordinator, who was a former Theatre Commander of Operation Lafia Dolle, added "The good thing about us in Nigeria is that the resilience level of Nigerians as a people has made it quite easy for response mechanisms to take root within the populace.
"However, the advocacy platform requires constant reengineering, it requires constant engineering because people need to take ownership of security. And when I mean people need to take ownership of security, they need to know as to who is responsible for what and what is the responsibility of the ordinary citizen itself, it is very germane.
"So when the Centre was established in 2021, precisely on the 3rd of May 2021, there was the need for the Centre to first understand the context of our obligation to ECOWAS, our obligation to the United Nations, there is a programme of action on small arms and light weapons which dates back to 1998. And the third pillar is our own national security imperative.
"How do we ensure that we look at influences of environment, see how we can curtail the availability of this illicit small arms and light weapons, the West African sub region itself and even to some greater extent, part of the Central African region itself.
"We are surrounded by one form of security challenge or the other. So when you look at the sources of illicit weapons, you begin to ask whether we have the capacity to absorb the numbers that has been in public domain over the years as to 7 million and some even say 12 million illicit weapons in circulation in Nigeria.
"Nigeria is a preferred destination for any marketer because the seeming wherewithal to acquire is there. We still have a functional environment where people are still organized. And so where these people or groups can easily put themselves together and identify what their end state as an existing body is.
"So you can put it in the end every would-be or every marketer or every gun-runner or every illegal weapons manufacturer has that market in mind. So, that is why you see the numbers are just been, you know, played with anyhow.
"But I used to ask myself, let us take for instance that you have 6 million illicit weapons in circulation in Nigeria, now, how many armed groups do we have in Nigeria? And how many of these armed groups, what is the strength of each group?," he queried.
Even though the bill for creating the Centre is yet to be passed into law, he said the Centre has been functional handling the threats of small arms and light weapons flow into Nigeria.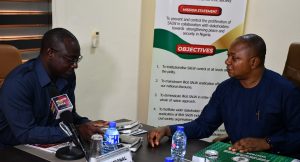 Speaking earlier, the SWAI President, Mr. Agbambu, maintained that the two major factors responsible for insecurity are availability of illegal arms and hard drugs.
Noting that a lot of people have attributed crimes to hunger and poverty, he however said "I believe that the availability of arms and availability of hard drugs are two major factors that have led to insecurity in the society.
"If we can be able to control them, then we will enjoy lasting peace in the society. That's why we took the interest to partner with the Centre," the SWAI President stated.
He also spoke about the glowing role SWAI played towards improving Maritime Security and Blue Economy in the Africa continent, through an international symposium that brought key stakeholders to South Africa in May 2023.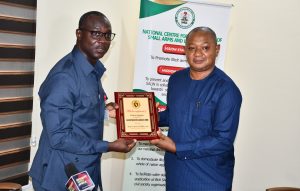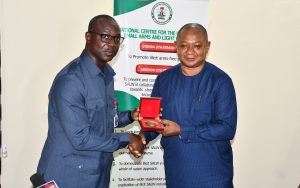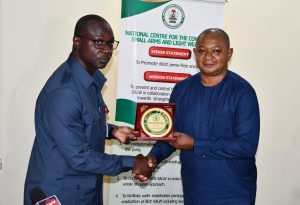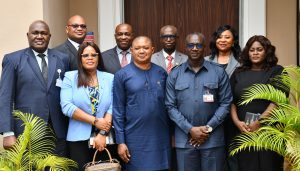 Besides highlighting the history and activities of SWAI, he also spoke about the SWAI annual Conference and Awards where security challenges are dissert and solutions profered and outstanding security personnel, stakeholders and institutions across the continent are honoured.
The visit, he said, was also to appreciate the good work the Centre is doing.