By Augustine Ehikioya
In order to remain vigilant at all times, the Chief of Defence Staff (CDS), General Christopher Gwabin Musa, has called on Commanders and troops of the Nigerian Army (NA) not to let the nation down in the ongoing efforts to quell emerging security challenges across the country.
He gave the charge during a visit to the Army Headquarters on Monday 6 November, 2023 after he was briefed on operational engagements of troops in various theatres of operations in the country.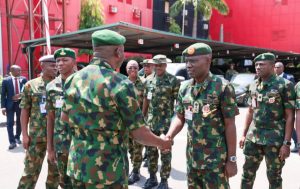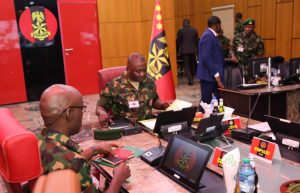 This was disclosed in a statement by the Director Army Public Relations, Brigadier General, Onyema Nwachukwu. It was made available to Security Watch Africa (SWA).
Speaking after receiving a comprehensive operations brief, Gen Musa commended the Chief of Army Staff, Lieutenant General Taoreed Abiodun Lagbaja, Principal Staff Officers, Field Commanders and troops for their dedication and sacrifice.
According to him, military service is a selfless service to humanity and must statutorily support civil authorities.
The CDS admonished Commanders at all levels to be "focused, committed and professional in steering the affairs of their various commands to expedite the restoration of peace and stability in the country."
He charged them to lead by example and provide result oriented leadership and mentorship to the junior leaders of the Nigerian Army.
Gen Musa urged the troops of the NA to remain "resilient and ensure jointness and inter-agency cooperation in the conduct of their operations to mitigate security challenges."
He assured the troops of the support of the President, Commander in Chief of the Armed Forces of Nigeria, Bola Ahmed Tinubu.
He also appreciated the President for his interventions in the Armed Forces of Nigeria, since his assumption of office.
"We have a task ahead and we cannot afford to let our country down. We have the support of Mr President and the nation at large", the Defence Chief stated.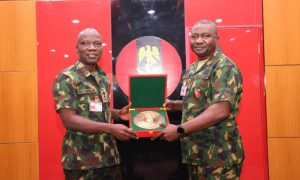 He charged the troops to support the lead agency in the forth coming elections and strictly adhere to the codes of conduct guiding troops' roles during polls.