By Augustine Ehikioya
To prevail against criminalities in the Niger Delta region, the General Officer Commanding 6 Division of the Nigerian Army/Land Component Commander, Joint Task Force, South South Operation DELTA SAFE, Major General Jamal Abdussalam has restated the importance of information sharing amongst critical stakeholders.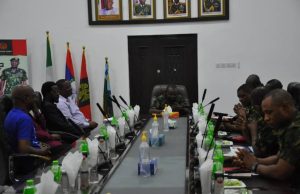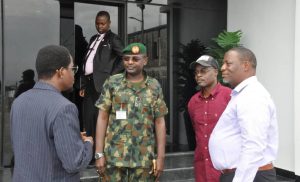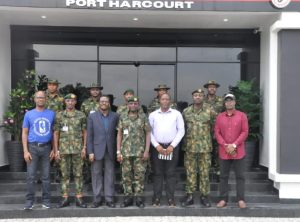 He made this observation when the Oil Producing Companies Committee Security Group (OPCC) paid him a visit at his office in Port Harcourt Barracks, Rivers State.
A statement by the 6 Division Army Public Relations, Acting Deputy Director, Major, Danjuma Jonah Danjuma, and made available to Security Watch Africa (SWA) has disclosed this.
It said "The GOC reiterated that the importance of information sharing amongst stakeholders cannot be overemphasized, stressing that it a veritable tool capable of finding a lasting solution to security challenges bedeviling oil companies in the region.
"He urged the group to resuscitate its activities, as this he retorted has huge potentials for security and indeed stability in the oil and gas industry. He further stressed that the existence of the group will close existing gaps amongst concerned stakeholders in the oil and gas sector.
"Major General Abdussalam, while stressing the necessity for continuos working relationship with the group, further reassured of the Division's support, adding that the Division would have a focal point person that will continue to interface with group in order to guarantee free flow of information."
The team leader OPCC, Mr Abiodun Oderinde, according to the statement, said that the group was at the Division to intimate the GOC of it's existence.
"He further said, they have been in existence since late 1990s, and have been a medium through which security organisations of oil producing companies share ideas in solving security challenges facing the oil companies.
"Mr Abiodun added that they were essentially out to create more awareness of the group's existence, adding that this will place the group on a trajectory to realise its objectives.
"He appealed to the GOC that the Division should not relent in providing security guidance when necessary.
"He also used the medium to solicit for support, particularly in hosting their meetings in facilities in Bori Camp."