By Augustine Ehikioya
For her outstanding performances, the Government of Denmark and Kofi Annan Peace International Keeping Training Centre (KAIPTC) have nominated Nigeria's Chiemelie Ezeobi, for Maritime Security Reporting Course in Accra, Ghana.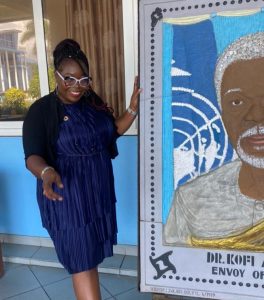 Ezeobi, who is the Features Editor of Thisday Newspapers and Member, International Panel of Judges, for Africa Security Watch Awards, is nominated along other participants for a 5-year project on Integrated Responses to Threats to Maritime Safety and Security in the Gulf of Guinea Maritime Domain in West and Central Africa.
A multiple awards winner, Ezeobi is attending the course with participants drawn from Liberia, Sierra Leone, Ghana, Cameroon, Equitorial Guinea and Benin Republic.
Grateful for the nomination, she declared "We are here to understand Gulf of Guinea Maritime issues and how to use the media to support efforts by State and non-state actors to reduce maritime criminality in the GoG region."