By Augustine Ehikioya
To counter terrorism and other security challenges, the Nigerian Army (NA) and the British Government have expressed readiness to strengthen ties on personnel training and equipment acquisition.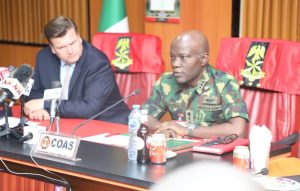 This was decided on Wednesday, 23 August, 2023, when the Chief of Army Staff (COAS), Lieutenant General Taoreed Lagbaja received in audience, the United Kingdom (UK) Minister of State for Armed Forces and Veterans, Mr James Steven Heappey and his entourage at the Army Headquarters, Abuja.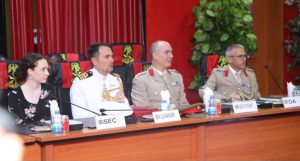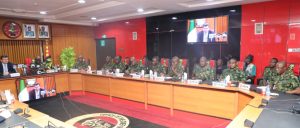 A statement by the Director Army Public Relations, Brigadier General, Onyema Nwachukwu, and made available to Security Watch (SWA) has revealed this.
It said "The COAS stated that the collaboration will provide the opportunity for the NA to share in the British Army's rich experience and expertise in diverse areas, such as counter-terrorism, peace support, logistics, and intelligence, among others.
"The Army Chief also averred that the acquisition of quality equipment and technology through this partnership is expected to improve the operational efficiency and effectiveness of the Nigerian Army, in addressing current and emerging security challenges within the country and the sub-region."
The COAS, it added, appreciated the existing cordial relationship between the duo, especially in the areas of training of personnel in British institutions and their support in the fight against insurgency and other forms of insecurity.
"He also expressed gratitude for the support of the British Military Advisory and Training Team (BMATT) and pledged that the NA will sustain the partnership, especially in the area of training, adding, that the NA will continue to partner the British Army towards promoting Nigeria-British interests across the West African spectrum."
Speaking earlier, the United Kingdom (UK) Minister of State for Armed Forces and Veterans, Mr James Steven Heappey, according to the statement, commended the relationship between the Nigerian Army and the United Kingdom.
"He maintained that such collaboration would provide valuable opportunities for the Nigerian Army to acquire new skills, knowledge, and technology from its British counterpart.
"He stressed that the exchange of expertise will contribute to the professional development and advancement of the Nigerian Army, ultimately leading to a more proficient and well-prepared force," it said.