By Augustine Ehikioya
Faulting the moves to deploy troops to Niger Republic, a social commentator, Chimezie Anyadike, has called for caution and said that the sanctions introduced by ECOWAS were too hasty.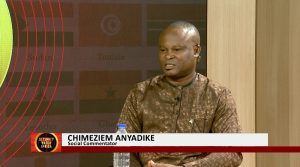 Some troops in Niger Republic had few days back sacked a democratically elected government in the country.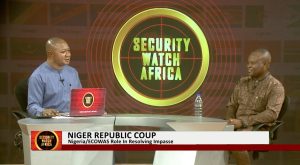 Anyadike, appearing on Security Watch Africa (SWA) programme at the weekend on the Africa Independent Television (AIT), said other options should first be completely exhausted by the ECOWAS chaired by Nigeria's President Bola Tinubu.
He said "It is actually disturbing, but at the same time, I think it is not something that should be treated with the level of aggression that is being witnessed, especially coming from the ECOWAS.
"It is quite disturbing and has every tendency to be very distabilizing for the ECOWAS subregion. It is something that has to be engaged with every measure of diplomacy.
"Every diplomatic means has to be ccompletely and thoroughly exhausted before we start talking about some sort of intervention and termination of bilateral relationship," he stated.
Stressing that the sanctions given were too hasty, he said giving ultimatum to the military junta was too strong armed.
He said "I believe that the seven days ultimatum shouldn't have been issued. What should have been done is to invite them to a conversation, have a round table discussion with them. They should have initiated talks before you start giving any form of sanction.
"Imposing sanctions, to me, I believe was a premature demonstration of strength. Giving out the sanctions was a hasty move," he stated.
He also explained that calling on the military junta to restore the outsted President can never happen as it has never happened anywhere in the world.
ECOWAS, he suggested, should have rather asked the military junta to restore democratic governance, and not necessarily the outsted president.
Anyadike also noted that cutting off power supply to Niger Republic will also make the Nigeriens to develop animosity against ECOWAS and Nigerians, as they will primarily be at the receiving end of such sanction.
"Starting with the sanctions could snowball into something nobody envisages, and Nigeria particularly is not prepared for that," he said.
According to him, whatever steps are taken now in hurry is capable of distabilizing the peace in Nigeria, recalling the ugly security situations across Africa that followed the Libyan crisis.
He however urged the National Assembly of Nigeria to have a high-powered meeting with the presidency towards delaying or stopping deployment of troops to Niger Republic since it will have adverse effect on the Northern parts of Nigeria.
Anyadike also suggested that the resources to be deployed to Niger Republic should be channeled inwards to ensure peace and security within Nigeria.
He added "The primary objective of Mr. President is to protect Nigerians first. What happened in Niger Republic, so far, I don't think it portends any security issue for Nigeria,"
On the absent of nominee with security background among the ministerial nominees being screened by the Senate, he said the President needs one or two nominees that will advice him on critical security situations internally and across the globe.