By Augustine Ehikioya
Saddened by the demise of its personnel, the South African Army has mourned four of its members that died from a tragic accident.
While expressing condolences to the families of the deceased, it also announced the the funeral arrangements,
A media statement by the Director: Defence Corporate Communication, Major General E. Mercuur of the South African National Defence Force (Defence Headquarters) has disclosed this. It was made available to Security Watch Africa (SWA).
It said "The South African Army wishes to express their deepest condolences to the families of the four members from 8 South African Infantry Battalion (8 SAI Bn) who lost their lives in a tragic accident that occurred on 20 September 2023 from Upigton on route to South African Army Combat Training Centre in the Northern Cape Province.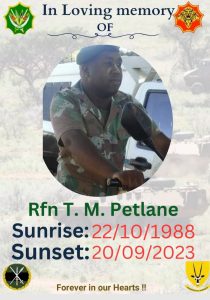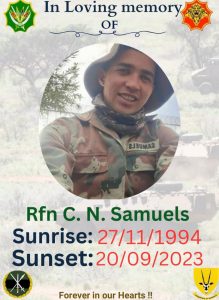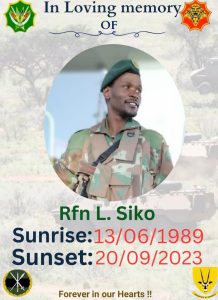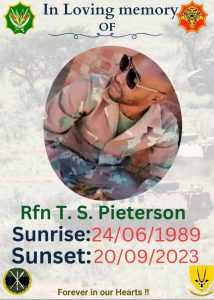 "The names of the four members who passed on are: Pte T.M. Petlane, Rfn C.N. Samuel's, Rfn L.Siko and Rfn T.S Pieterson.
"The South African Army also wishes to announce the memorial service and funeral arrangements of the four SA Army soldiers as follows: A combined memorial service will be held on 27 September, 2023 at 8 SAI Inf Bn in Upington at 09:00 am.
"The full military funeral arrangements of the four members will be decentralised as follows: Pte T.M. Petlane will be buried on 30 Sep 23, in Zastron, Rfn C.N. Samuels will be buried on 30 Sept 23, in Koffiefontein, Rfn L.Siko will be buried on 30 Sept 23, in Soweto and Rfn T.S Pieterson will be buried on 7 Oct 23 in Kimberley."
It went on "The Minister of Defence and Military Veterans, Ms Thandi Modise, Deputy Minister of Defence and Military Veterans, Mr Thabang Makwetla, Chief of the South African National Defence Force, General Rudzani Maphwanya, Chief of the South African Army. Lieutenant General Lawrence Khulekani Mbatha and the Officer Commanding of 8 SAI Bn. Lieutenant Colonel T.A. Joseph extend their deepest condolences to the bereaved families, friends and colleagues of the four soldiers who tragically lost their lives in the line of duty."